MARILYN BECKNER
ACTIVITY: Competitive Swimming
ACCOMPLISHMENTS: Senior Olympics Medalist & Breast Cancer Survivor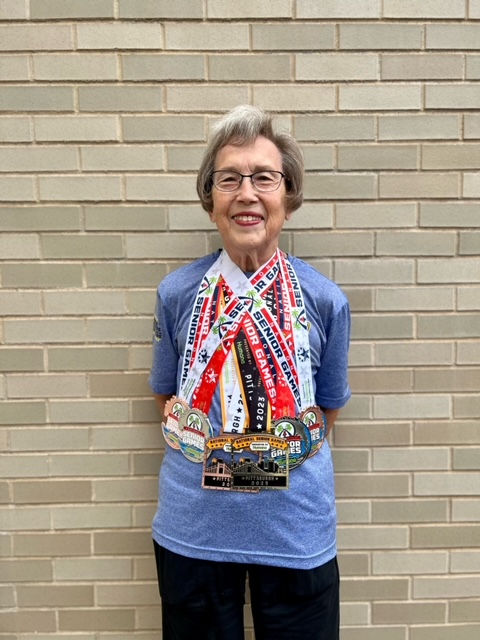 BACKGROUND: 
Marilyn grew up in the water, but didn't have formal swim lessons until her late 60s at the YMCA. She started competitive swimming at the age of 70 after seeing information about the Senior Olympics at the Hamilton Family YMCA, Marilyn entered her first district meet in 2010 in six events: 100, 200, & 500 freestyle, 100 backstroke and 50 &100 breaststroke. She won six gold medals, qualifying her for state. In July 2010, she entered the same six events and won four gold & two silver! Those qualified her for the 2011 Nationals in Houston, and she's been competing in Senior Olympics ever since! District & state meets are held every year, and nationals every two years (next one will be in 2025).
PERSPECTIVE ON HEALTH:
In 2010, Marilyn was diagnosed with breast cancer and had a double mastectomy. Motivated to get back into the water, she pushed hard through physical therapy and made it back into the water just three weeks before nationals, placing 7th in the 50 breast stroke & 8th in the 100 breast stroke. While Marilyn credits swimming as key to maintaining her health, it's also a source of community and a shared activity with her friend, Margaret. Both physical therapists, Marilyn and Margaret's friendship keeps them motivated to swim together at the Downtown YMCA every Monday, Wednesday and Friday--logging 2,500-3,000 yards each time!